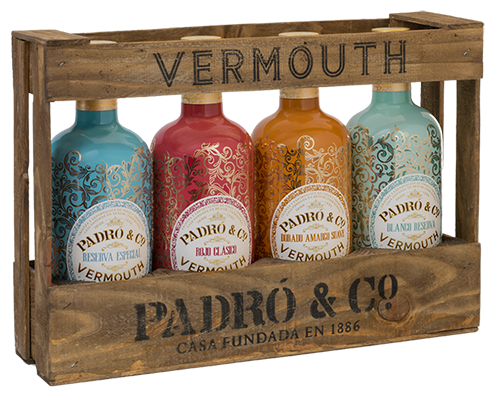 This special vintage-style gift crate, inspired by the wooden crates used at the Padró winery to transport returnable wine bottles in the 1960s, comes with one bottle of each of our 4 classic vermouths.
Contents of the crate: 4 x750ml bottles.

La nueva presentación consiste en una caja de madera para cuatro botellas hecha a mano, inspirada en las antiguas cajas de transporte de botellas de vino retornables que utilizaba la bodega en el año 1960.
La caja contiene: 1 Padró & Co. Blanco Reserva, 1 Padró & Co. Rojo Clásico, 1 Padró & Co. Dorado Amargo Suave, 1 Padró & Co. Reserva Especial.
*Personalizable con cualquier combinación de vermouths.