Myrrha Rojo, a traditional Spanish vermouth that appeals to a wide range of palates
Today we are tasting our Myrrha Rojo by Padró & Co. This is our most traditional vermouth that takes us back to the time of the very first wines flavoured with wormwood and other botanicals grown in our area, the Camp de Tarragona, during the 19th century. The contrast between sweetness and the delicate bitter taste that characterizes our Myrrha brand makes it a superbly pleasing drink for a wide range of palates.
For our Myrrha Rojo, we use a base wine made from our own grapes, to which we add a careful selection of botanicals. We then age this vermouth coupage in old wooden barrels to give it body. This gentle rest in wood is also what allows us to appreciate aromas of vanilla and mountain herbs in the vermouth as well as a hint of the deliciously piquant, spicey-sweet flavours of clove.
Myrrha Rojo: Distinctly authentic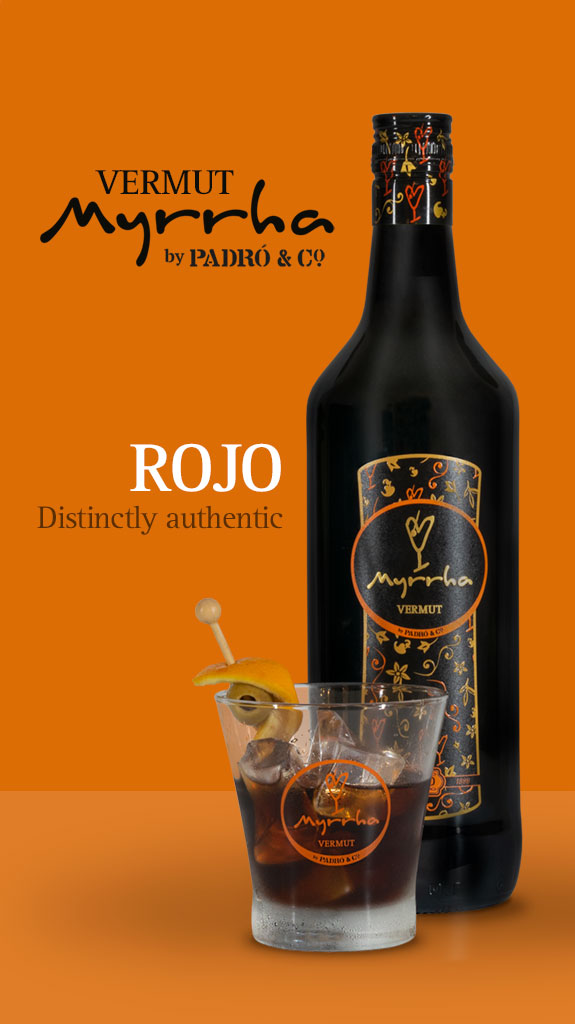 We recommend serving the Myrrha Rojo cold and with a twist of orange peel. It pairs well with all kinds of smoked foods, among which we would highlight herring. In addition to this, the special characteristics of our Myrrha Rojo are also brought out when paired with various types of cheese. Try it, for example, with raw cow's milk cheese flavoured with rosemary. We encourage you to experiment and discover your favourite combinations.
This is our most versatile vermouth since it can be drunk on its own, paired with food and even used as a mixer to make a range of delicious cocktails.
It is this very versatility as well as its tendency to blend well with a range of other ingredients that has earned our Myrrha Rojo some recognition in the world of mixology, the art of combining drinks. In 2018 Myrrha Rojo won the Catalan Vinari Award for Best Vermouth for Cocktails. The members of Catalonia's bartender association, Club del Barman de Catalunya, who chose Myrrha Rojo in a blind tasting, also created the "Brameta" cocktail. The cocktail takes its name from Bràfim, the tiny village where we make all our vermouths. The cocktail also uses brandy, mint and orange.
In addition to this award, Myrrha Rojo has received several other accolades, including a Gold Vinari for Best Red Vermouth in 2020 and a Gold Medal in 2021 from the prestigious American Distilling Institute in its contest that assesses fortified wines and spirits made using traditional methods.
Digital vermouth on Youtube, Facebook and Instagram
If you would like to taste our Myrrha Rojo in the comfort of your own home and together with our guides at Casa Vermouth Padró, nothing could be easier. Just go ahead!
The videos are available in English, Spanish and Catalan on our YouTube channel, on Instagram Reels section and on our Facebook.