Vermouth Padró & Co. Rojo Amargo
Irresistably Vivacious
---

Our most charismatic vermouth is made using a double infusion of red vermouth and bitter herbs.
VINIFICATION
Rojo Amargo starts with an initial infusion of mountain plants, with their small roots and highly aromatic flowers. The vermouth then rests for two years in chestnut barrels gently absorbing the aromas and, once the ageing process is complete, a second herb mixture is added consisting of a combination of plant bark and roots from the area around the winery, which give the vermouth even more character and its bitter tang.
TASTING NOTES
Nose: Zesty aromas of ripe orange peel with a subtle touch of cinnamon follow through into balsamic notes of clove and dried fruits such as apricot.
Mouth: Smooth and full-bodied palate with fresh sensations of orange, followed by a superbly bitter taste that is round, intense and reminiscent of tobacco, chinchona bark and honeyed caramel.
Vermouth made from a unique infusion of aromatic herbs and aged in the barrel before bottling at our winery.
18% ALC. / VOL. · 750ml.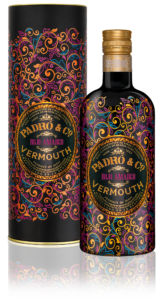 Premium packaging in a smart cylindrical format with embossed copper-coloured lettering.
The vermouth that lights up each and every moment
If UV light falls onto the bottle at any time, its fluorescent colours reveal the hidden side of Padró & Co. Rojo Amargo.