Salut i Vermut! We raise a glass to health and vermouth in 2022
We begin 2022 brimming with ideas and projects and would like to wish you all a very happy and healthy New Year. We would also like to take this opportunity to thank you for your trust in Padró i Família. It is this trust that allows us to look forward with optimism to the year ahead.
From Minnesota to Bràfim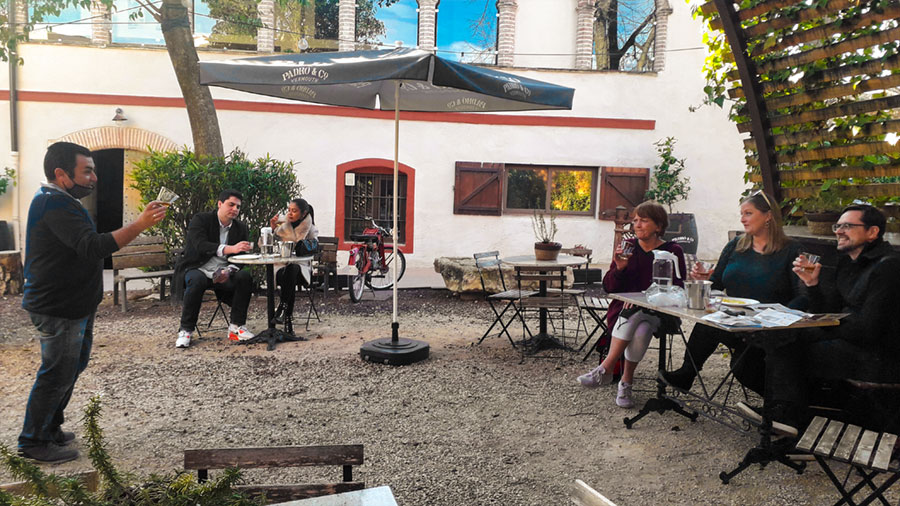 The first visitors to arrive at our Casa Vermouth Padró this year were a small group from the United States, specifically from the state of Minnesota. This family of vermouth lovers discovered Padró & Co. by chance in their local specialty store. From that moment on, they became interested in the brand. A stop in Bràfim (near Tarragona) on their way from Barcelona to Valencia was a must in their trip around Spain. In fact, they took an open bottle of our Rojo Clásico along with them in their fridge. In Bràfim they learned all about how vermouth is made using traditional methods, as well as the history behind the drink, the ingredients and one or two of those closely guarded secrets. Their visit included a tasting with Jordi, one of our experienced guides, allowing them to enjoy the full range of sensations that go with our vermouths.
We find it quite wonderful that a specialty store in Minnesota and our Casa Vermouth Padró here in Bràfim can connect so organically in this way. Thanks, in many ways, to the globalization of the 21st century. However, we shouldn't forget that we have many people to thank for this. There is a whole chain of people and actions bringing us together and each link in that chain is vitally important. From those who tend the grapes in and around Bràfim all the way to the consumer on another continent. We would like to express our gratitude to those who help us on the land, those who supply to us, those who distribute for us and, last but not least, our trusted and valued customers. Thank you for making the Padró i Família project possible.
Padró i Família celebrates its accolades of 2021
Once again, our vermouths saw a year of several national and international awards, receiving notable recognition in major competitions.
For example, our Rojo Clásico triumphed in Germany with a Gold Medal at the ISW Meininger's International Spirits Awards 2021 whilst our Dorado Amargo Suave won a Gold Medal at the prestigious San Francisco World Spirit Competition. By coincidence, these were the very two vermouths our first American visitors of 2022 were familiar with. At local level, these same two vermouths were picked out for Gold Medals in the benchmark competition for Catalan vermouths, the Vinari Awards, in which our vermouths have now received a total of 17 awards.
Our Myrrha Rojo and Myrrha Blanco vermouths were also a source of joy, receiving their first international awards from the prestigious American Distilling Institute in its Judging of Craft Spirits 2021 contest. This competition evaluates ​​spirits and fortified wines made using traditional methods.
We end 2021 with the satisfaction of a job well done and send our very best wishes to all of you who have made it possible by putting your trust in Padró i Família. Salut i vermut for 2022!